An important recall was recently announced by many different cars manufactures is really concerning for many drivers over the world. The recall affects 19 different car makers and affects over 37 million cars from the model years 2002-2015.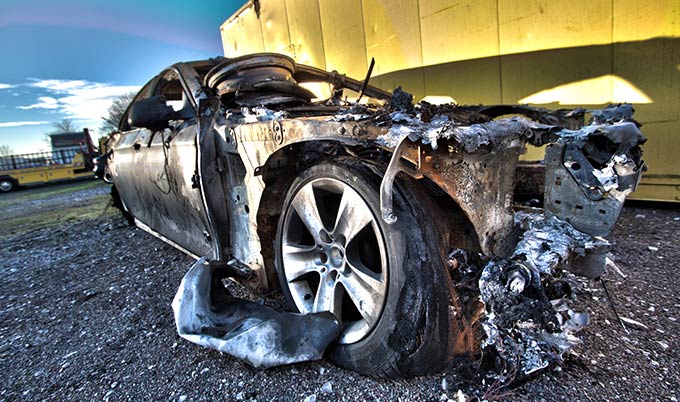 Some of the major car companies involved include Toyota, Honda, Ford, Subaru, Volkswagen, Mercedes-Benz, BMW, Mazda, and Ferrari. For a full list of all the affected vehicles, go to the bottom of this article. Toyota announced 65,000 cars that were affected.
Ford is really concerned about this particular recall. One of the cars affected is the 2006 ford ranger. Ford wants to find all the rangers so bad, its willing to pay $1000 to dealerships to find every single one. The Ford Ranger is one of the particularly dangerous vehicles on the list as it could spray shrapnel in the case of an accident. Below are the other cars that are particularly dangerous due to this defect.
2001-2002 Honda Civic
2001-2002 Honda Accord
2001-2002 Acura EL
2002-2003 Acura TL
2002 Honda CR-V
2002 Honda Odyssey
2003 Acura CL
2003 Honda Pilot
2006 Ford Ranger (Ford Advises Do Not Drive)
2006 Mazda B-Series (Mazda Advises Do Not Drive)
The actual problem itself lies in the inflator for the airbag. The airbag inflator is a metal cartridge. When the airbag is deployed, the inflator housing could get damaged in the crash and pieces of metal could get sprayed in the cabin. There have been 23 deaths and 300 injuries caused by this defect. There were 37 million vehicles affected by this recall and 49.5 million inflators.
At the end of the day, you should always be aware of any recalls, big or small, as they could really affect you or your vehicle. If your vehicle does have a recall, make sure to visit the dealership and get it fixed.
Here is the full list of cars affected (be warned, it is very long) :
Acura

2003 Acura 3.2CL
2002-2003 Acura 3.2TL
2013-2016 Acura ILX
2013-2014 Acura ILX Hybrid
2003-2006 Acura MDX
2007-2016 Acura RDX
2005-2012 Acura RL
2009-2014 Acura TL
2010-2013 Acura ZDX

Audi

2005-2013 Audi A3
2006-2009 Audi A4 Cabrio
2010-2011 Audi A5 Cabrio
2009-2012 Audi Q5

BMW

2008-2013 128i
2008-2013 135i
2008-2013 1 Series M
2000 323i
2002-2006 325Ci
2002-2003 325iT
2001-2011 325i
2001-2011 325xi
2002-2003 325xiT
2006-2012 325xiT
2000 328i
2006-2013 328i
2006-2013 328xi
2006-2013 328i xDrive
2001-2011 330i
2001-2011 330xi
2002-2006 330Ci
2006-2013 335i
2006-2013 335xi
2006-2013 335i xDrive
2009-2011 335d
2007-2013 335is
2002-2003 525i
2002-2003 530i
2002-2003 540i
2001-2013 M3
2002-2003 M5
2013-2015 X1 sDrive28i
2013-2015 X1 xDrive28i
2013-2015 X1 xDrive35i
2007-2010 X3 xDrive30i
2003 X5 3.0i
2003 X5 4.4i
2007-2013 X5 xDrive30i
2007-2013 X5 xDrive35i
2007-2013 X5 xDrive48i
2007-2013 X5 xDrive50
2007-2013 X5 M
2009-2013 X5 xDrive35d
2008-2014 X6 xDrive35i
2008-2014 X6 xDrive50i
2008-2014 X6 M

Chevrolet

2007-2008 Chevrolet Silverado 2500
2007-2008 Chevrolet Silverado 3500

Chrysler

2007-2008 Chrysler Aspen
2005-2010 Chrysler 300
2005-2010 Chrysler 300C
2006-2007 Chrysler Crossfire
2005-2010 Chrysler SRT8

Daimler

2008-2009 Sterling Bullet 4500
2008-2009 Sterling Bullet 5500
2007-2009 Dodge Sprinter 2500
2007-2009 Dodge Sprinter 3500
2007-2014 Freightliner Sprinter 2500
2007-2014 Freightliner Sprinter 3500
2010-2014 Mercedes-Benz Sprinter 2500
2010-2014 Mercedes-Benz Sprinter 3500

Dodge/Ram

2008-2010 Dodge Challenger
2006-2010 Dodge Charger
2005-2011 Dodge Dakota
2004-2008 Dodge Durango
2005-2008 Dodge Magnum
2003-2009 Dodge Ram 1500
2003-2009 Dodge Ram 2500
2003-2009 Dodge Ram 3500
2008-2010 Dodge Ram 4500
2008-2010 Dodge Ram 5500

Ford

2004-2006 Ranger
2005-2006 GT
2005-2014 Mustang

GMC

2007-2008 GMC Sierra 2500
2007-2008 GMC Sierra 3500

Honda

2001-2007 Accord
2001-2005 Civic
2003-2005 Civic Hybrid
2001-2004 Civic CNG
2002-2011 CR-V
2011-2015 CR-Z
2003-2011 Element
2010-2014 FCX Clarity
2009-2013 Fit
2013-2014 Fit EV
2010-2014 Insight
2002-2004 Odyssey
2003-2008 Pilot
2006-2014 Ridgeline

Infiniti

2003-2005 Infiniti FX35
2003-2005 Infiniti FX45
2001 Infiniti I30
2002-2004 Infiniti I35
2006 Infiniti M35
2006 Infiniti M45
2002-2003 Infiniti QX4

Mazda

2004-2006 B-Series Truck
2003-2008 Mazda6
2006-2007 Mazda Mazdaspeed6
2004-2005 MPV
2004-2008 RX-8

Mercedes-Benz

2005 C230 Kompressor
2006-2007 C230
2008-2011 C300
2008-2011 C300 4Matic
2005 C320
2006-2011 C350
2009-2011 Mercedes-Benz C63 AMG
2010-2011 E350
2010-2011 E350 4Matic
2011 E350 Cabriolet
2010-2011 E550
2010-2011 E550 4Matic
2011 E550 Cabriolet
2010-2011 E63 AMG
2009-2010 GL320 BlueTec 4Matic
2011-2012 GL350 BlueTec 4Matic
2009-2012 GL450 4Matic
2009-2012 GL550 4Matic
2010-2012 GLK350
2010-2012 GLK350 4Matic
2009-2010 ML320 BlueTec 4Matic
2009-2011 ML350
2009-2011 ML350 4Matic
2010-2011 ML450 4Matic Hybrid
2009-2011 ML550 4Matic
2009-2011 ML63 AMG
2007-2008 SLK280
2007-2008 SLK350
2007-2008 SLK55 AMG
2011-2014 SLS AMG
2012 SLS AMG Cabriolet
2013-2014 SLS AMG GT
2009-2010 R320 CDI 4Matic
2009-2010 R320 CDI 4Matic
2009-2012 R350 4Matic
2011-2012 R350 BlueTec 4Matic

Mitsubishi

2004-2006 Lancer
2004-2006 Lancer Evolution
2004 Lancer Sportback
2006-2009 Mitsubishi Raider

Nissan

2001-2003 Nissan Maxima
2002-2006 Nissan Sentra
2002-2004 Nissan Pathfinder

Pontiac
Saab

2005 Saab 9-2x
2003-2011 Saab 9-3
2010-2011 Saab 9-5

Saturn
Subaru

2003-2005 Baja
2004-2005 Impreza
2003-2008 Legacy
2003-2008 Outback

Toyota

2003-2008 Corolla
2003-2008 Corolla Matrix
2004-2005 Rav4
2002-2007 Sequoia
2003-2006 Tundra
2002-2010 Lexus SC

Volkswagen (VW)

2009-2014 CC
2012-2014 Eos
2010-2014 Golf
2010-2014 Jetta Sportwagen
2006-2010 Passat
2012-2014 Passat
Credits
Info
auto123.com
consumerreports.org
tc.gc.ca
caranddriver.com
thomasjhenrylaw.com
Images
allstate.com
thecarconnection.com
atozresearch.com